Questions about the formula? Check out the Frequently Asked Questions.
FYI: This post was written in 2012 and our family has grown significantly since then. We now have 7 little rug rats!
I have been a lifetime goat milk consumer due to a nasty allergy I had developed as a young child to cow milk. A careless licked ice cream spoon was all it took to send me over the edge and into an intense allergic reaction. It was safe to call my allergy severe but I can't claim that it was unusual.
Cow milk allergy is the number one allergy in kids and symptoms include irritability, vomiting, wheezing, swelling, hives, and even anaphylactic shock!
Thankfully the solution to this problem became evident and I was immediately placed on goat milk and thrived.
Fast forward nearly 30 years and I am married with my own family. My wife Elizabeth and I have 3 children and another on the way.
Liesl is 9 months and it was with her that I saw firsthand, the genetic impact I had on my children. Because we have been blessed with children that are very close in age, it was necessary to supplement breastfeeding with some kind of formula. The standard recommendation in such a case is to put your baby on some kind of basic Enfamil/Similac formula.  Since we wanted to do what was best for our little girl we went and bought a bottle of the powder. While it nearly costs us an arm and a leg, we were willing to do it because what parent doesn't want to give their children only the best.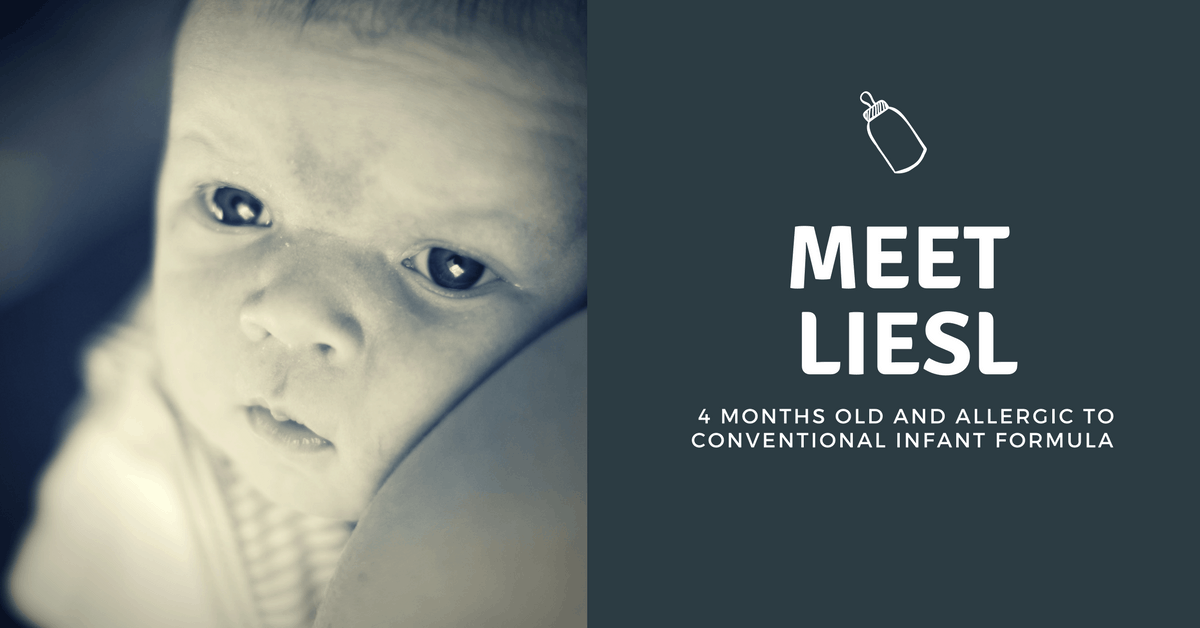 While it may seem obvious now that Liesl would be allergic to the formula, at the time, Elizabeth and I were both shocked at the severity of her allergy to the product. Right away we noticed, hives on her cheeks, legs, and arms. She then developed an awful diaper rash, as well as severe diarrhea. Needless to say, we took her off of that formula immediately and started her on goat milk.
Now I believe goat milk is the perfect alternative to cow milk and I wasn't satisfied with the homemade infant formulas I saw being discussed online primarily because they all relied on cow milk. Cow milk contains an extremely allergenic protein called alpha s1 casein which is the reason it is the number one allergy-causing substance in kids. Anyway, I was convinced that a goat milk formula was what was needed and I decided to put my six and half years of nutrition study to work. While goat milk is the perfect alternative to cow milk in infant formula, an infant's needs are slightly different than those of an adult or even a young child. First, if goat milk is the sole food being provided to an infant than protein content needs to be taken into account. The milk should be diluted to lower the protein content. This will ensure that the formula doesn't contain protein levels that would be stressful to the newly formed kidneys of the infant. However, once you lower the protein levels by diluting the milk, you now have to increase the calories, carbohydrates, and fat, accordingly to make up for the dilution level.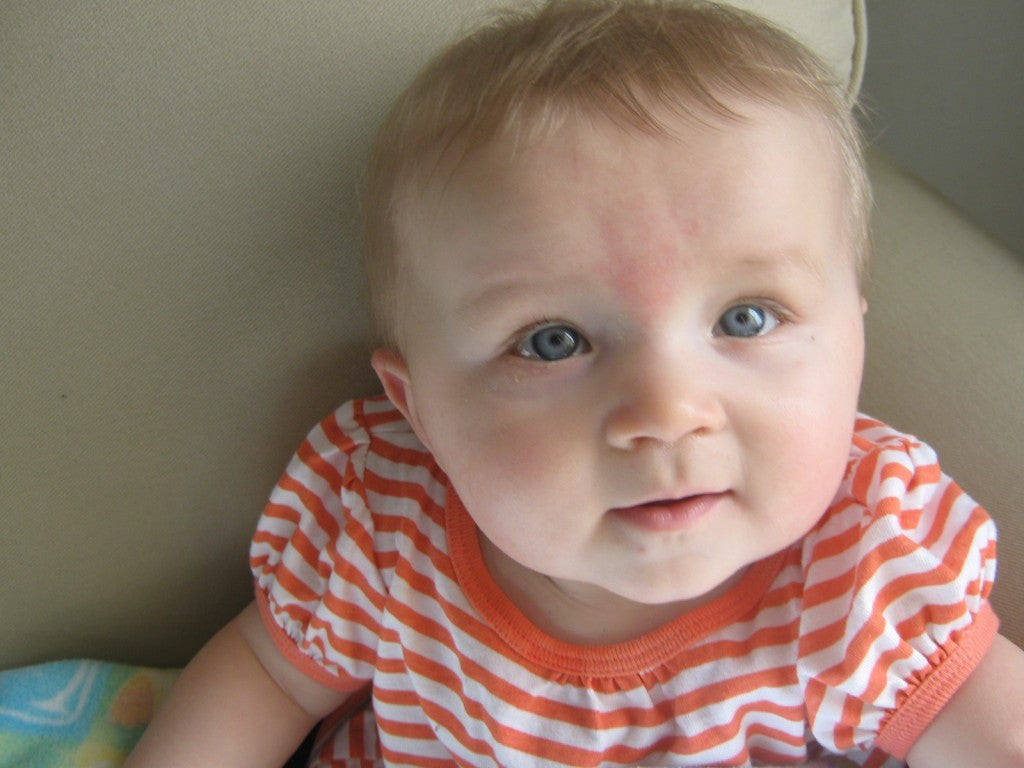 The below chart on the left shows the nutrition levels of breast milk. While goat milk is one of the closest kinds of milk to human milk, there is are still few nutritional gaps that need to be equalized. Therefore if you follow the recipe I outline below, the nutrition information of your goat milk infant formula should look like the chart on the right.

Pretty much nutritionally exact.
Note: breastfeeding is always better and that no formula can match it.
Our goal is to come as close as nutritionally possible.
Recipe for Homemade Goat Milk Formula
(Note: The proportions listed are for making an 8 oz. bottle.)

This is really where all the magic begins. Goat milk is a remarkable food in that it more closely resembles the protein, fat, and carbohydrate structure of breast milk than literally any other ingredient available. The benefits range from the nucleotide (DNA) structure of goat milk being as similar to breast milk to the presence of taurine in goat milk amounting to 20 times that of cow's milk which is, not surprisingly, the same ratio found in breast milk. *As of January 2016 we began including a scoop in every bottle of CapraMilk. If your bottle does not have a scoop just know that it is approximately 1 heaping tablespoon.
Carbohydrates are the main source of energy for baby and there is a fair amount of flexibility here. I prefer to use lactose as it is true "milk sugar". Lactose is a combination of glucose and galactose which is perfect for an infants diet. Babies naturally produce excessive amounts of lactase, an enzyme used to digest lactose so the fit is natural. Also, lactose is really helpful in establishing Lactobacillus acidophilus (good bacteria) in the newly formed GI tract of your little one. Other good options for your carbohydrate sources are organic, raw turbinado sugar, organic maple syrup, brown rice syrup, and even cow milk lactose. Honey is not a good option as it is not recommended for babies less than 12 months old.
This is one of nature's greatest fat sources. Ghee is the clarified "butter oil" from goat milk cream and does not contain any of the allergens found in cow milk. Mt. Capra is currently the only company in the world producing this unique food. Saturated fat is extremely important for the brain development and overall health of your growing little one. The saturated fat in goat milk ghee is high in medium chain triglycerides (MCT's) and because our goats are grass-fed, our ghee contains Conjugated Linoleic Acid (CLA) as well as important fatty acids such as lauric acid which is found in high amounts in breast milk. EDIT: Coconut oil is still a great option for the saturated fat category of the formula and can be used in the same amount as the goat milk ghee. Coconut oil was the most requested ingredient replacement question as it is unfortunately somewhat common as an allergen. We created our goat milk ghee to address this need and because this formula is meant to be a low-allergy option, the Goat Milk Ghee is a great tool for those little ones who are especially sensitive to the allergens found in coconut oil.
High Oleic Sunflower oil delivers more healthy fats, this time in the form of monounsaturated fats. High Oleic (not cheap standard) sunflower oil is the highest source of monounsaturated fatty acids available on the supermarket shelves. Olive oil is acceptable to use here if it is high quality and not adulterated with low-quality oils. Sunflower oil is also a great source of naturally occurring Vitamin E.
Grapeseed oil is present to deliver the essential fatty acid linoleic acid which is vital in infant nutrition. This is a polyunsaturated fatty acid that the body cannot produce on its own but is not in need of in large amounts. Commercial formula manufacturers pack their formulas with cheap canola/safflower oils that are high in linoleic acid but much higher than an infant needs for proper health. Since these oils are high in polyunsaturated Omega6 fatty acids, they tend to be inflammatory as opposed to the saturated/monounsaturated fatty acids. Since you are making your own formula, you get to add only the necessary amount of this essential fatty acid without flooding the formula with polyunsaturated fatty acids. You won't find that level of flexibility in any prepackaged formula.
This thick black syrup is high in B vitamins, minerals, and is a natural source of iron. It also can help keep baby from getting constipated so be careful not to give too much! Make sure you get the unsulphured variety as it is far less processed.
DHA – Based on weight
DHA also is known as Docosahexaenoic acid is found in fish, algae and most importantly here, breast milk. It is not found in goat milk and is a required addition to the formula for its content of DHA as well as Vitamin D and Vitamin A. This is another ingredient that only needs to be added once per day based on the weight of the baby.
NutriStart Multivitamin Powder created by Rainbow Light®. Remember, this one you only need to add to one bottle per day as it will contain all the vitamins/minerals needed for that day.NutriStart Multivitamin Powder™ delivers key nutrients in optimal potencies and combinations for the special needs of young children. 100 mg vitamin C (250% DV), 400 IU vitamin D3 (100% DV), and 50 mcg vitamin K. Please don't add this to every bottle.
Mt Capra offers the only commercially available goat milk colostrum. Colostrum is the thick yellow fluid which is produced as a precursor to mother's milk. It is found in humans, goats, and other mammals where it is produced by the mother for two days following birth. Colostrum can be described as a brilliantly designed transfer system which effectively "jump starts" a newborn's undeveloped immune system. Colostrum adds many beneficial bioactive ingredients such as lactoferrin, cytokines, growth factors, and immunoglobulins. It only needs to be added once per day. Make sure to get the powdered version for easy mixing.
Probiotics are naturally present in breast milk and there are several different strains that are perfectly designed for infants. Bifidobacterium infantis, Bifidobacterium breve, Bifidobacterium longum, and Saccharomyces boulardii all have clinical research that shows safety in infants as well as many beneficial effects. I recommend the Garden of Life brand Primal Defense Kids but there are many high-quality infant probiotics available. Since most probably will only recommend them for kids 3 and up, I suggest only using half a dose but probiotics are amazingly safe and I would have no problem using the regular strength or even double the strength if the situation needed it. Remember, this ingredient only needs to be added only once per day and should be kept in cold storage until right before you add it to the bottle.
A free download for you!
I have spent many hours researching and refining this goat milk infant formula recipe. I have formatted it into a convenient recipe card size that is easily printable and comes with step by step instructions. It also has a conversions table so that you can mix 1 pint, 1 quart, and 1 gallon of the formula without doing a single calculation in your head. How's that for convenience!
I will send this free recipe to you instantly. All you have to do is join the Mt. Capra family 'Inner Circle' by putting your email in the form below and confirming your subscription. 
Our famous homemade infant formula recipe can now be purchased as a kit. The total retail value of the kit is over $200!  and contains all the wholesome ingredients necessary to make the goat milk formula at home.
This has been a formula that has worked wonders for our daughter and I think it can work wonders for your children too! Please be sure to talk over the formula with your doctor so he or she is aware of your choice.
I would love to hear your feedback in the comment section.
Here's to your health!
Joe Stout, M.S – Father of 6
Joe holds both an M.S. and B.Sc. degrees in Human Nutrition and Food Science from the University of Bridgeport and Washington State University. Joe has been married to his wonderful wife Elizabeth for eight years and has 6 beautiful children. He is the President of Mt. Capra and lives on and manages the family goat dairy.