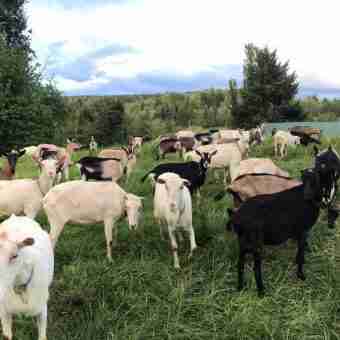 We are often asked by new goat farmers which goat breeds are the best for dairy production.  It is not an easy question to answer.  Bless the goat, there are over 300 breeds to choose from, as you might expect, there are a lot of opinions about this topic.
Add to that the fact that "best" can mean best with regards to production totals or best with regards to taste, and those qualifying points are affected by the way goats are raised, what they are fed, and where they are raised.  We know some people who firmly believe that goat milk in Europe tastes much better than goat milk in the United States.  They also suggest that goat milk cheese, goat milk yogurt, goat milk soaps and supplements from Europe are superior over similar products made in the U.S. We do not subscribe to that theory, obviously, but we do understand why it is stated.
The best we can do to answer the question is to give a rather general overview of some of the best dairy goats. As long as you realize our opinions will always have an asterisk next to them because of what we just mentioned.
These, then, are some of the better dairy goats:
Saanen – a quality producer, the Saanen can be counted on to deliver 2 gallons per day
Alpine – the "normal" is 1-2 gallons per day
Nubians – also 1-2 gallons per day
Toggenburg – over-producers, they will give 2+ gallons per day
Oberhaslis – on average two per day
And honorable mention goes to the La Manchas, the Nigerians, and the Guernseys.
Ninety years of Mt. Capra have taught us one valuable lesson in producing goat milk products. Expect the unexpected and be prepared for it daily. And we will add one more lesson we consider important. Yes, the goat is important, but it is equally important that care, and love, go into the production of goat milk products. Quality control is our mantra here at Mt. Capra.  Our goats do the important first task each morning. After that it is up to us to make sure that goat milk is used in the best way possible.
ABOUT MT. CAPRA
Mt. Capra is a small, family-run farm in the Pacific Northwest. Which, for nearly a century, has been producing premium whole foods and nutritional products from goat milk. Our grass-fed goats graze on pesticide-free and chemical-free forage 365 days a year. No hormones or antibiotics are used to increase production.
"Wellness shaped by goat's milk"