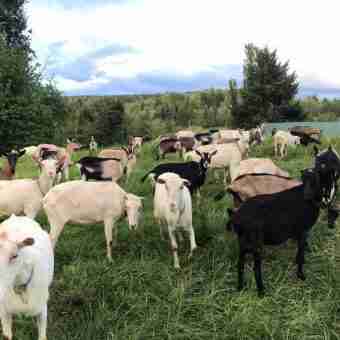 We don't know how much you know about goats, and the raising of goats, but we can quickly summarize by saying this: healthy goats equal healthy products. Goats are not a whole lot different from humans with respect to input and output.  In other words, what goes into a goat comes out of a goat, and what goes into a goat directly affects all goat products and functions.
Think about the truth of that statement.  Take humans for example.  Most humans with terrible dietary practices will have health issues.  A person who eats junk food in a regular basis, in vast quantities, can expect to eventually see negative results with regards to health.  That is only logical and few people would debate it.
Healthy eating leads to . ..
Along that same line of logic, a person who continually eats harmful foods, or harmful additives, will eventually suffer negative consequences.
Again, logical, right?
The same is true for goats.
That is why our goats are fed, 365 days per year, foods and forage which are all-natural and organic. There are no GMO's, no hormones, no pesticides, and no antibiotics at Mt. Capra.
Quite frankly, it is more expensive to raise our goats this way, but the expense is worth it because we can then assure our customers that our goat milk products are all-natural and all-healthy.
That is our promise to you, and ninety years of Mt. Capra means our promise is our bond.  When we sell you, the public, a product, whether a cleansing supplement or goat whey or infant formula, you can rest assured that our product is produced by the healthiest goats in the industry.
Our word . . . our bond . . . that is the Mt. Capra way!
ABOUT MT. CAPRA
Mt. Capra is a small, family-run farm in the Pacific Northwest which, for nearly a century, has been producing premium whole foods and nutritional products from goat milk. Our grass-fed goats graze on pesticide-free and chemical-free forage 365 days a year. No hormones or antibiotics are used to increase production.