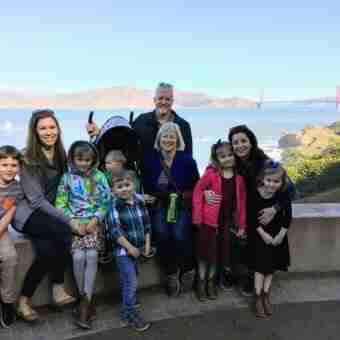 We have spent a great amount of time on this blog telling you about our various products. We have discussed the pros of goat milk products, from our cleansing supplements to our goat milk whey, from our ghee to our baby formula.  Showing you the benefits of goat milk vs cow milk. Also we have talked about nutrients and ingredients and on and on until I'm sure many of you know it all by heart.
But what we really need to spend some time on is talking to you about family.
Ninety years of Mt. Capra, and that ninety years is all about the goats and two families.
It began in 1928 with Mr. Melvin Eggars and his love of cheeses made from goat milk.  His family carried on that tradition of excellence until 1985 when he sold the farm to Frank Stout, and since then the Stout family has continued to shout the praises of goat milk products.
Two families . . . the same farm . . . the same location . . . the same love of goats . . . the same dedication . . . Mt. Capra Farm . . . wellness shaped by goat milk!
It's pretty cool when we think about it.  During a beautiful summer night, our family will sit on the porch, overlooking the farm, and with a gentle breeze blowing we will think of that history, and all that's been accomplished, and we will smile.  It's hard work, farming, make no mistake about it.  It is long days and constant problems.  Machinery breaking down and changing market costs.  It is vet bills and at times concerns about the weather and cost of feed and a thousand other frets . . . but it has been, is, and will be worth it because we love it!
This farm is our passion.  Our goats are our passion.  Our product is our passion.
And that makes it all worth it!
Our farm . . . our family . . . your assurance that Mt. Capra products are the best on the market!
ABOUT MT. CAPRA
Mt. Capra is a small, family-run farm in the Pacific Northwest which, for nearly a century, has been producing premium whole foods and nutritional products from goat milk. Our grass-fed goats graze on pesticide-free and chemical-free forage 365 days a year. No hormones or antibiotics are used to increase production.
"Wellness shaped by goat's milk"