In the shadow of Mt. Saint Helens, a blueberry farm has been flourishing since 1944. The farmer, second generation, goes by the name of Glenn and is finishing his blueberry harvest for the day. As the sun sinks into the Pacific, I wait for him to finish his work and drum my fingers on the steering wheel. Once the job is complete, we load dozens of 40 pound crates of blueberries into the back of my old pickup and talk about the weather.
These blueberries, harvested only moments ago, will be dried within hours on our Refractance Window® dryer at our facility a few miles down the road. 
LOCAL PACIFIC NORTHWEST FARMERS
Across the Cascade range, another farmer is finishing his harvest for the day. Travis, first generation, has just finished harvesting Aronia berries on his 5 year old farm. Aronias resemble blueberries in size but possess a much deeper purple, almost black, color due to the extremely high levels of nutrient dense polyphenols (especially anthocyanins) contained in the skin and seeds.
A TRIUMPH IN NUTRITIONAL WHOLEFOODS!

We've managed to squeeze 45 berries into each packet of BerryWhey™ 45 – Pacific Northwest Grown Nutrition all locally produced here in the Pacific Northwest and dried on our own Refractance Window® dryer. Along with these superfruits, we included 10g of GOAT WHEY™ (goat whey protein isolate), 8 grams of our own Capra Mineral Whey® mineral/electrolyte mix, and 3 grams of our CapraCream™ goat milk cream. We also boosted the healthy fats by including 4 grams of non-GMO sunflower lecithin (this equals 2 grams of brain healthy phospholipids), and zero grams of added sugar.
Zero grams of added sugar.
A NEW KIND OF PROTEIN SHAKE
The beauty of BerryWhey™ lies in the fact that each packet contains the whole fruit (seed, skin, pulp, etc.). When the skin and seeds are thrown away (as is often the case) the majority of the nutritional potency of the berry is lost. When the whole fruit is kept intact it is difficult to dry without destroying the nutritional value.
CUTTING EDGE DRYING TECH
Both the blueberries and aronia berries will be dried within hours of harvest at our facility on our Refractance Window® dryer locking in their nutritional value at the peak of freshness.
Refractance Window® Drying (RWD) Technology is so gentle, the full range of phytochemicals such as polyphenols, anthocyanins, proanthocyanins, phenolic acid, and flavonoids stay nutritionally bioavailable and stable even when stored for long periods of time in a packet or bottle on the shelf.   
During the RWD drying process, the product is cool enough to comfortably rest your hand upon. With product temperatures THAT low and no harsh vacuums destroying cellular structure food dried using this technology is simply superior.
SUPERBERRIES + GOAT MILK PROTEIN
The benefits of goat milk ingredients are widely known. Therefore the combination of our own mineral/electrolyte pack Capra Mineral Whey®  and cream CapraCream™ along with a high quality goat milk protein isolate GOAT WHEY™ makes a "nutritional trinity" of PROTEIN, MINERALS, and HEALTHY FATS.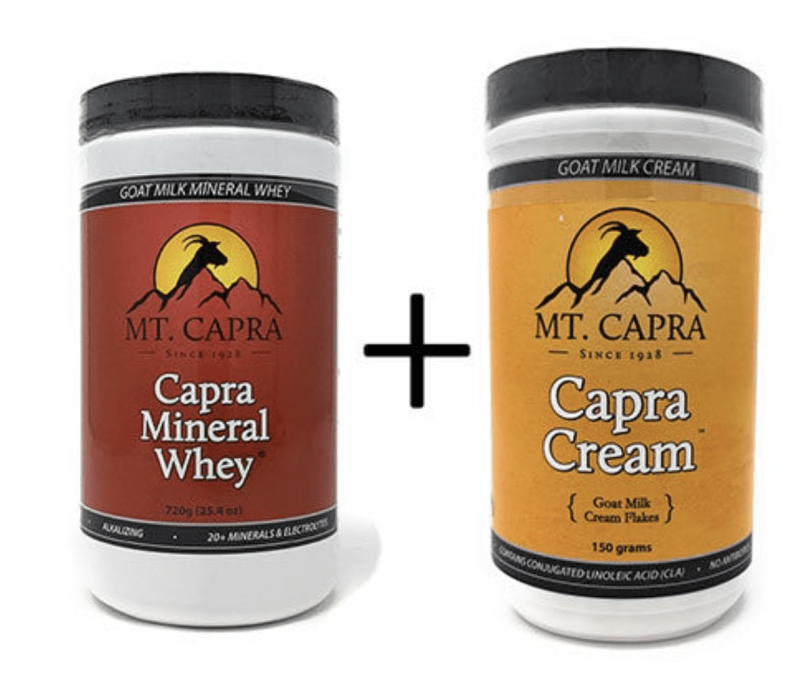 Finally, we've included a non-GMO sunflower lecithin due to its high content of brain boosting phospholipids such as Phosphatidylcholine, Phosphatidylinositol, Phosphatidylethanolamine, and Phosphatidic acid.
SUSTAINABLE PACIFIC NORTHWEST
Each one of these ingredients, chosen for its nutrient density and functional impacts, harvested locally from sustainable farms and dried at the peak of freshness, bring together a drink packet that delivers healthy fats, wholesome proteins, and bioavailable phytonutrients, minerals, and vitamins, all with a label that is as clean as the air of the Pacific Northwest.