There are only two categories in the visible world; People and things. A true farmer is one who cares about both.
We care about the health, well-being, and happiness of people such as our family members, team members, customers, neighbors, and even those we've never met. We also care about the things surrounding us. Things like animals, land, soil, tractors, rain, education, pollution, crops, sunshine, and political climates. To care means to interact and in many cases adapt to the constant change within these two categories.
In January 2014 I was faced with a common problem every farmer faces. How can I, a farmer, feed my animals the same quality and optimum diet. Both in the dead of winter as they receive in the spring, summer, and early autumn? In other words, how can I care for these things (animals) which I have been entrusted with so that they can give nutritious milk for my customers (people)?

I didn't think there would be an easy answer. After all, 2/3 of the year the Mt. Capra pastures and forests are overflowing with vibrant and diverse, native vegetation. Every day we bring the goats to these Eden-like places and let them feast to their heart's content. They feed on every manner of healthy organic shrub, orb, legume, leaf, and grass. The next day (or week depending on the stocking density) they have moved again to a fresh paddock of organic pasture or forest. This model works exactly the way it is supposed to for 7-8 of every 12 months in the year. But for those times beginning at the end of October through the beginning of March when much of our grazing areas are under the heavy Pacific Northwest rain what could we do to maintain the same level of nutrition?

We decided to take a cue from Australia, a world that, on the surface, seemed far different than ours. Our farm is nestled in the lush and rainy hills of the Pacific Northwest. Australia is, in addition to being on the other side of the globe, a dry and weary land suffering in many parts from decades of pollution, erosion, and environmental destruction. They are also in the midst of one of the worst droughts in the recorded history of the continent. Farmers and scientists alike were perfecting a technology that is changing the face of farming. The technology is known as hydroponic fodder growing and it was the solution to our winter feeding problem.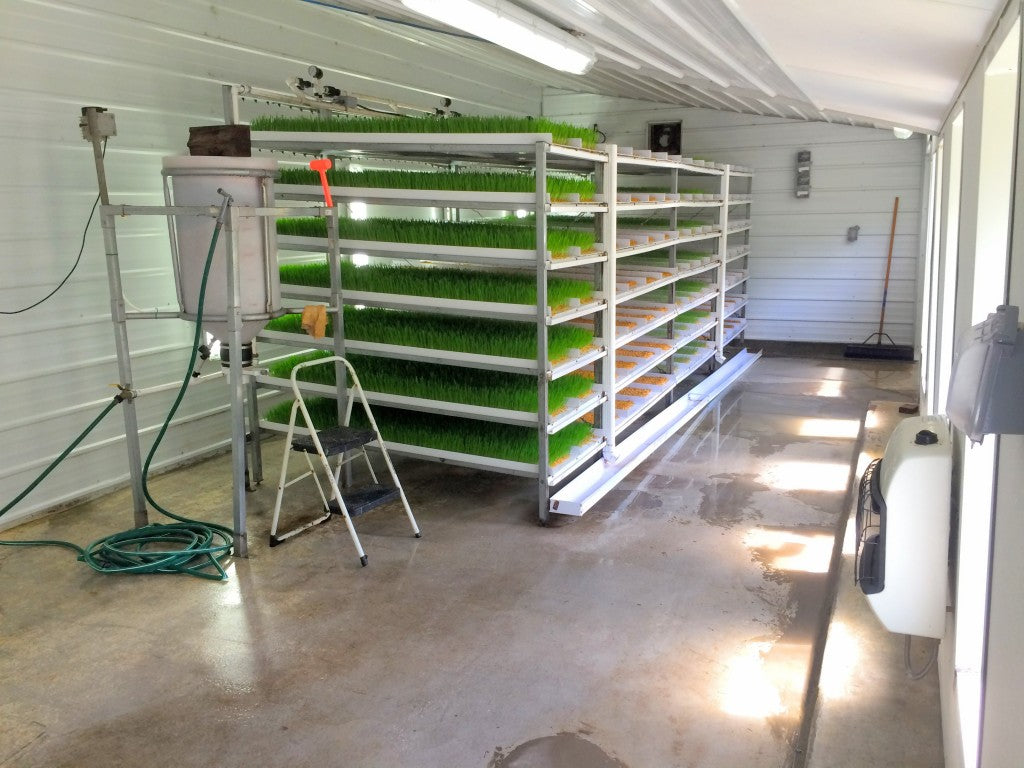 Hydroponic fodder production is insanely simple to understand and absolutely magical to watch. Simply put, dry seed (barley, wheat, alfalfa, peas, oats, etc.) is placed in trays. These are soaked in water and in the course of 7 days grows into a beautiful mat of delicious and nutrition fodder. Additionally, check out the video below to see that process from start to finish.
Pretty cool huh? We think so too.
Now for the details
We use barley as our seed of choice for two reasons. One, it grows well under the hydroponic model and produces a great yield. Secondly, and more importantly, there are currently no (to my knowledge) genetically modified (GMO) varieties of barley seed in existence. Undoubtedly, Mt. Capra has always had a zero-tolerance policy for genetically modified ingredients. My concern over GMO contamination from my barley seed is zero. The system we created can grow 750 pounds of organic barley fodder each day. To grow this using an industrial agriculture model would require 112 acres of prime farmland, hundreds of thousands of gallons of water, and massive petroleum inputs of fertilizers, pesticides, herbicides, and fungicides. The systems we've developed uses only 140 square feet, less than 100 gallons of water/day, and no inputs other than water and light!
Not only can we produce a vast amount of food in a tiny space but we are no longer dependent or concerned with growing conditions such as rain, sunshine, blight, or insect damage. The nutritional boost that sprouting fresh barley fodder contributes is absolutely astounding. The barley goes from being only 30% digestible to a stunning 90% digestibility. Protein increases by 166% and Vitamin A content skyrockets by 600% in only 7 days!
As for our problem of not being able to take our goats to the pasture in the winter? Well, now I bring the pasture to my goats. The goats simply couldn't be any happier.
J
oe received a Masters of Science in Clinical Human Nutrition from the University of Bridgeport and a Bachelors of Science in Human Nutrition and Food Science from Washington State University. Along with running the farm, He is currently engaged in graduate studies of Sustainable Food Systems at Green Mountain College and is certified in Permaculture Design having studied under the world-renowned Geoff Lawton. Joe and his wonderful bride Elizabeth have been married for 8 years and have been blessed with 6 beautiful children.