I recently overheard a conversation between a husband and wife that made me smile. The husband, hit with a late night craving for potato chips, was telling his wife that he was planning on raiding the bag before going to bed. However, his wife was well aware of his condition of hypertension (high blood pressure) and the salt content of each serving of chips. In a genuine attempt to offer a better alternative, she suggested he have a slice of peanut butter toast or perhaps lunch meat, cheese, and crackers. Now it's no secret that potato chips are salty and high in fat and we all can agree that they are not a great snack. However, by examining table 1, we can see that while the potato chips racked up a significant sodium load, both the toast and crackers were far higher in salt even though they were not particularly salty in taste.
Hairbrained Heart Health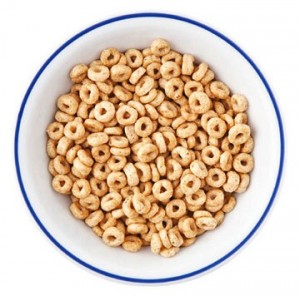 This is often the case when it comes to sodium management. Certain foods are singled out as being "bad for your blood pressure" while others are ignored because they either don't taste salty or they are perceived as heart-healthy already. I silently chuckle to myself with amusement whenever I am at the grocery store and see a box of Cheerios® and their bold claims to heart health. Until very recently, each 28g serving of Cheerios® contained 190mg of sodium. That is nearly 50% more than 28g (1 serving) of potato chips!  How's that for heart health!
Don't Eat Your Vegetables!
One of the most common pieces of advice in nutrition is to "eat your vegetables." I am here to tell you to ignore this piece of advice, don't eat your vegetables. Wait, don't strip me of my degrees in nutrition and throw me in the loony bin. I only mean to steer clear of canned vegetables high in sodium. Don't believe me? Go to your pantry. Now, find that can of green beans and look at the amount of sodium per cup. No, that isn't a typo it really does have over 500mg per cup! Okay now root around until you find that can of tomatoes. Yes, it's true, it does have nearly 600mg. That can of corn? 760mg of sodium per cup! As amazing as this sounds, canned vegetables often have ridiculously high levels of salt. The salt is included mainly for taste but "no-salt-added" alternatives are thankfully becoming more common.
Mystery Meat
Chicken can be another source of hidden sodium. A common tactic food producers use to enhance flavor and weight of chicken is to inject the processed meat with a salt-water solution. Manufacturers claim this increases flavor and tenderness but it can cause the birds to be up to 8 times as salty as natural chicken. In fact, 4 oz. of this salty mystery meat has more sodium than a large order of fries at McDonald's! Not only that but the salt-water solution can often add up to 15% extra weight to the meat. This means that consumers (you and I) are paying 15¢ on the dollar for plain water. Again, be sure to check your labels for added salt because chicken processed with the sodium injection method can legally be labeled "100% all-natural chicken."
Is your Baker out to get you?
Baked goods are a type of food that is usually not thought of as being high in sodium. People generally assume this because baked goods are generally not very salty in taste. However two of the main leavening ingredients used in baking, baking powder and baking soda, both have high levels of sodium bicarbonate. Baking soda has around 1260mg sodium per teaspoon and baking powder has nearly 500mg per teaspoon! These teaspoons add up fast. Consider a popular pancake recipe that yields 8 pancakes total.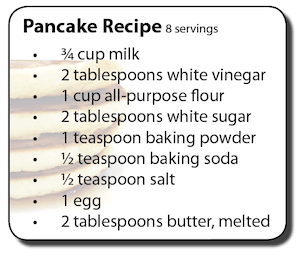 The recipe calls for 1 teaspoon baking powder (477mg), ½ teaspoon baking soda (616mg), and ½ teaspoon salt (1,162mg)  for a total of 2,255mg. Don't forget the 2 tablespoons of salted butter though, which adds another 160mg. By the time you finally sit down to eat these salt bombs, most will probably add another tablespoon of butter(80mg) with their syrup. 
This all adds up to the unbelievable number of 382 mg sodium per flapjack! Just three of these things will skyrocket you into the thousands and that is just for breakfast! Wow! Potato chips aren't looking so bad after all. Now the sharp-eyed observer will note that I did not include the sodium found in the 1 egg(65mg) and the ¾ cup of milk(94mg). I intentionally left it out for the reason that there is a vast metabolic difference between ingesting food based sodium (i.e. sodium found naturally in foods) and sodium chloride/sodium bicarbonate. The latter is a byproduct of mining and chemical refinement while food based sodium is naturally recognized and assimilated by the body.
Sodium: A killer essential mineral
In all reality, sodium is one of the most important minerals in our body. Acute hyponatremia, or low sodium levels in the extracellular fluid, can quickly lead to rapid brain swelling. This condition can easily then develop into a coma and eventually death. While sodium is vital to health, most Americans consume an enormous amount of this electrolyte each day primarily due to our addiction to highly processed foods. Excessive sodium can contribute to hypertension and cardiovascular disease (CVD). The American Heart Association estimates that in 2010, the medical cost of over-consumption of sodium was 503 billion dollars! This is almost 1,700 bucks per person in the U.S. Now that's expensive.
Relax with Potassium!
Salt reduction is only part of solving the equation of hypertension and CVD. While sodium is often over consumed, potassium is often under-consumed. This is unfortunate because potassium is essential in fighting hypertension. We should be consuming at least 4,700 mg of this mineral per day. This means eating a lot of bananas, a lot of potatoes, and probably more prunes than those around us would prefer. As a clinical nutrition scientist, I would be hard-pressed to ever suggest alternatives to fruits and vegetables but I will offer a suggestion for upping the potassium intake of those struggling to get enough. Goat milk is an excellent source of natural food-based minerals, such as potassium. When these minerals are gently extracted from the milk, the final product is a concentrated food called Capra Mineral Whey. Just 2 tablespoons of Capra Mineral Whey have over 1,000 mg of potassium, which trumps most fruits and vegetables. As a mineral supplement, Capra Mineral Whey not only has high levels of potassium but also calcium, magnesium, and phosphorus. So the next time you are hit with a craving for a late night snack. Don't be too hasty to drop that bag of potato chips unless you're sure beyond a shadow of a doubt that your alternative snack isn't going to be hiding sodium deep within. Or maybe that's just my evil twin telling you to eat that bag of potato chips. ∆
Joe Stout received his Bachelors of Science degree in Human Nutrition and Food Science from Washington State University and a Masters of Science degree in Clinical Human Nutrition. He has written for various magazines and is the editor of The High Road to Health. A nutrition teacher and speaker, he lives in Spokane WA with his beautiful wife and 3 wonderful children.