Who doesn't love a good Crème Brûlée? Crème Brûlée is a cool, creamy custard with a burnt sugar topping that can be hard to resist.
The problem with Crème Brûlée is that I have only ever seen it made with cow's cream, which can sit very heavy in the stomach, especially after eating a large meal out. Generally most people only ever eat Crème Brûlée at a restaurant.
The good news? I have put together three tasty versions of Crème Brûlée for you made, of course, with our Goat Milk Cream! Now you can still enjoy this dessert, and with these easy recipes, you may just surprise yourself and your family and friends with how easy this French delicacy is to make!
Since I didn't have a kitchen torch, I set out on Google to find an easy recipe for Crème Brûlée that had an alternative method for making the burnt sugar topping. I ended up quickly finding a great video by Adam Ragusea. These recipes are adapted from his video on No-Torch Crème Brûlée on YouTube that you can find here: https://www.youtube.com/watch?v=9Jja-kf5z4U
Thanks Adam for the original inspiration.
Goat Milk Crème Brûlée
For 2 servings
The Custard Base Recipe:
2 egg yolks
2 Tbs sugar
2 tsp vanilla
Pinch of sea salt (optional)*
Enough re-hydrated Goat Milk Cream to bring the total mixture up to 1 cup once the rest of the ingredients are mixed together (close to a cup of liquid cream)
*My sister says a pinch of sea salt in desserts always enhances the flavor and makes it better, but you decide whether you want to use it or not.
Directions for re-hydrating our dried Goat Milk Cream flakes:
Unfortunately the only real way to do this is by using a kitchen scale. First measure out 75 g of Goat Milk Cream flakes. You can do this by putting a bowl on the kitchen scale once you put it on grams, then push tare to zero out the weight of the bowl, and then add in Goat Milk Cream until the scale reads 75 g.
Pour the 75 g of Goat Milk Cream into a blender (I used a Vitamix)
Add 187.5 g of water to the blender with the cream. (This equaled to somewhere just over 6.25 ounces, but it is best to weigh it. Turn the scale to grams, put a small glass on the scale, push tare, then add in enough water to get to 187.5 g of water.) This cream to water ratio tries to mimic the 40% fat that is typically found in cow's heavy whipping cream.
Blend it up good!
Directions for putting together the custard:
Preheat the oven to 250 F.
Put the 2 egg yolks into a 2 cup glass measuring cup and add the 2 Tbs sugar. Mix together with a fork.
Add the vanilla extract
Put in a pinch of salt.
Add the liquid Goat Milk Cream until the mixture reaches 1 cup.
Mix all together with a fork until well mixed, but be cautious not to over mix or it may effect the consistency of the custard.
Pour a half cup into each of two 5 oz ramekins.
Bake for 45 minutes in the oven. The custard should have a bit of a jiggle in the middle of it when you tap on the sides.
Let cool for about half hour. Once you can safely touch the container, transfer it into the fridge.
Let it set for about an hour or more in the refrigerator to firm up and become cool before adding the burnt sugar topping.
Ingredients for Burnt Sugar Topping
2 Tbs sugar
tiny bit of honey (like a squeeze or just the tip of a spoonful)
a few drops of water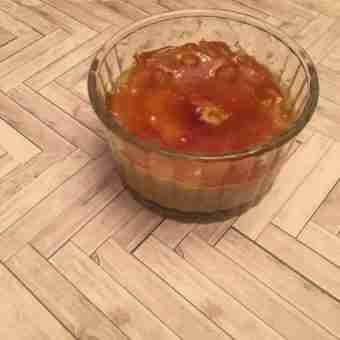 Directions for making the Burnt Sugar Topping for 2 servings:
Combine 2 Tbs sugar, the tiny bit of honey (prevents sugar from crystalizing) and a little bit of water to help the sugar melt and mix together.
Then cook mixture over low-medium heat until the mixture starts to turn amber. Adam says there should be a bit of smoke coming up out of it, it should turn more liquid and loose, and be bubbling. (Note: you don't stir the mixture after step 1, just let it cook and maybe use the pot handle to move the contents around from time to time)
Once it is amber colored, pour half the mixture in the middle of one of the ramekins on top of the custard, then tilt the ramekin around until the hot sugar spreads to the outside edges and is covered. Repeat with the second ramekin. (Note: It starts to harden very quickly and becomes stiff, so you need to be quick at this part)
Notes on my experiences so far:
-The first time I left it in my oven for about 30 seconds over the 45 minutes and suddenly got some liquid coming up at the sides and it was a bit loose and watery in the middle. Not sure exactly what the issue was, but wondered if the dried cream and the water somehow separated from each other. It was still tasty though, so no worries!
-The second time I ended up cooking the liquid Goat Milk Cream for a bit until it started steaming to make sure the flakes were fully dissolved and the liquid was one cohesive batch. Then I let it cool down until it was no longer hot, I think about room temperature and followed the rest of the recipe. This time the custard was more the consistency of a cake, so I think I might have over beaten the mixture, which toughened the eggs. Play around with both methods and find your happy medium.
Espresso Version:
Mix in with your fork 1/4 tsp instant espresso powder or instant coffee (I used a Starbucks Via that I had on hand) in the basic batch recipe before baking. If you want to get fancy you could try sprinkling some espresso powder on the sugar topping before it hardens.
Mexican Hot Chocolate Version:
Make the custard base recipe as above, but add the following and mix with your fork before baking:
1/4 tsp cinnamon
2 TBS melted semi-sweet chocolate chips (I mixed a little Goat Milk Cream liquid in when I was melting them)
1 tsp cocoa powder
1/8 tsp instant espresso powder or instant coffee
several sprinkles of nutmeg
several sprinkles of chipotle powder (this will make it spicy so do to your liking)
I hope you all love these recipes. Let me know how yours turns out! We would love it if you tag us @mtcapra on Instagram if you end up making it and posting your picture. Got a different recipe you have made and love with our products (smoothies, buttermilk pancakes, goat milk ice cream)? Let us know! We would love to share it with others. Maybe your recipe may be featured on our blog!